mukeshbalani.com | "You heard it here first…if you haven't already heard it elsewhere"…
Nokia 9 spotted in the wild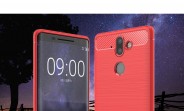 They are among us – no, not aliens, but Nokia 9 prototypes. Someone was spotted in Jakarta testdriving the phone's alleged Dual 13MP camera.
You can see the vertically-oriented dual camera on the back. With the LED to the side, it matches the design we saw leaked by a case maker.
The front – allegedly sporting a 5.5″ OLED screen with a tall 18:9 aspect ratio – is less clear. There have been rumors of rounded sides, but it's hard to tell if that's the case from these images.
Spy photos of the Nokia 9 (or perhaps the Nokia 7 Plus)
There is a chance that this is a Nokia 7 Plus…