mukeshbalani.com | "You heard it here first…if you haven't already heard it elsewhere"…
LG G7 could launch in May and cost €80 more than G6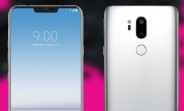 The LG G7 could be in for a late April to early May release in South Korea and it will likely cost around €80 more than the LG G6, or around €700.
The G7 will incorporate the LG V30 ThinQ's AI camera but will have the Snapdragon 845 chipset along with an OLED screen with a notch on the top.
Rumor has it LG has a G7+ in the works as well and that it will cost €760. As is the LG norm, the plus version will not be an entirely new device, but will simply offer more RAM and storage.
Source