mukeshbalani.com | "You heard it here first…if you haven't already heard it elsewhere"…
First hands-on photos of Moto E5 Plus emerge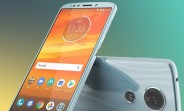 About a month ago we saw the first, and subsequently last, render of the Moto E5 Plus but things have been quiet ever since.
This changes with these first hands-on photos of the phone-to-be in the wild, which are too poor in quality to give out anything new and only show what the render already had.
Nevertheless, let's sum up what we suspect and what we can see. The Moto E5 Plus will have an 18:9 aspect display (supposedly a 5.8-inch 720x1440px LCD), a fingerprint scanner on the back (embedded into the Moto logo) and a glossy backside, made to imitate luxury.
Moto E5 Plus -…