mukeshbalani.com | "You heard it here first…if you haven't already heard it elsewhere"…
Week 21 in review: Xiaomi Mi 8 generates a lot of hype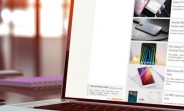 This week we focused a lot on the upcoming Xiaomi Mi 8 and its fast approaching May 31 unveiling. The phone was handled in the wild, we saw its translucent back and found out most of its specs. Alongside the Mi 8, Xiaomi will announce MIUI 10 at its event.
HTC announced its U12+ flagship and it was also tested by DxO, which praised its camera prowess.
Samsung announced the Galaxy S Light Luxury. The phone, previously recognized as the Galaxy S8 lite has a 5.8-inch Infinity Display, a single 16MP camera and a Snapdragon 660 chip. The Galaxy J8 also became official.
LG unveiled a trio…