mukeshbalani.com | "You heard it here first…if you haven't already heard it elsewhere"…
Weekly poll: would you buy an HTC U12+?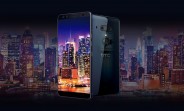 The HTC U12+ is barely out the gate and it already scored its first victory – DxO put it in 2nd place, right behind the Huawei P20 Pro. Those are some serious camera chops.
Looking at the U12+ spec sheet and after our brief first person encounter with the phone, there's barely anything to complain about – besides launching this late in the game and the lack of a 3.5 mm headphone jack (an adapter is supplied in the box, though).
The lateness is not so much an issues in itself, but it gave other flagships time to undergo a price adjustments. The P20 Pro, for example, started at €900, but…