mukeshbalani.com | "You heard it here first…if you haven't already heard it elsewhere"…
Xiaomi launches Mi Pocket Speaker 2 in India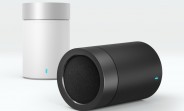 Xiaomi has launched a new Bluetooth speaker in India, the Mi Pocket Speaker 2.
As the name suggests, the Mi Pocket Speaker 2 is a really compact Bluetooth speaker that is only 3.6-inch tall and 2.3-inch wide. It features a polycarbonate + ABS material for the lower body and the top is made out of anodized aluminum.
The main feature of the speaker is the 5W speaker manufactured by Tymphany, a German audio engineering company that specializes in making drivers for audio equipment. Having said that, it's a small speaker, so it probably won't blow the roof off your house.
The…