mukeshbalani.com | "You heard it here first…if you haven't already heard it elsewhere"…
Weekly poll: Are in-display fingerprint readers the future?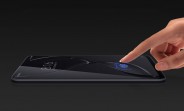 Fingerprint readers convincingly beat 3D face scanning in a previous poll of ours, now let's talk about the positioning. In-display readers are available on a few premium devices, but the tech is quickly gaining popularity.
The Meizu 16 and 16 Pro have already brought the price of admission way down – the smaller model starts at €340. The Oppo R17 will an in-display fingerprint reader as well, and so will the very similar vivo V11. And there are vivo's earlier efforts: X20 Plus UD, X21 UD, NEX S. The Xiaomi Mi 8 Explorer too (those are all flagships, though).
Analysts believe that by…