mukeshbalani.com | "You heard it here first…if you haven't already heard it elsewhere"…
Apple enables electrocardiogram on Watch Series 4 with watchOS 5.1.2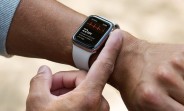 When Apple announced the Watch Series 4 in September a big focus was placed on the smartwatch' ability to perform an electrocardiogram. But the feature was unavailable at launch. Now, Apple is activating it in the US through watchOS update 5.1.2.
The update adds the ECG app to Watch Series 4 devices in the States (where the ECG is currently only available) and also unlocks irregular heart rate warnings on all Apple Watch from Series 1 through to Series 4.
The Apple Watch will passively read your heart rate in the background and will warn you if it spots a suspicious pattern.
As…