mukeshbalani.com | "You heard it here first…if you haven't already heard it elsewhere"…
Google discontinues Chromecast Audio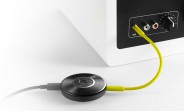 Google has confirmed that it is discontinuing the Chromecast Audio.
In a statement sent to Android Police, the company said,
Our product portfolio continues to evolve, and now we have a variety of products for users to enjoy audio. We have therefore stopped manufacturing our Chromecast Audio products. We will continue to offer assistance for Chromecast Audio devices, so users can continue to enjoy their music, podcasts and more.
Chromecast Audio was a small and affordable way to stream audio from your phone to a pair of active speakers with a line-in or optical input. The device…