mukeshbalani.com | "You heard it here first…if you haven't already heard it elsewhere"…
Unicorn Pink is the fifth Samsung Galaxy A8s color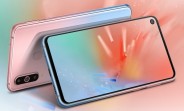 Samsung Galaxy A8s is technically the first smartphone with a selfie camera in the screen. It was introduced in three colors, later followed by the Female Edition that had a yellow-pink gradient back panel.
Now a fifth version was launched by the maker in China – it is called Unicorn Edition or Unicorn Pink and is a gradient from baby pink to light blue.
The Galaxy A8s in Unicorn Pink is sold with 6 GB RAM and 128 GB storage. On the inside it is exactly the same – Snapdragon 710 chipset and LCD screen with Full HD+ resolution and tall 19.5:9 ratio.
There are three cameras on…