mukeshbalani.com | "You heard it here first…if you haven't already heard it elsewhere"…
FCC reveals some Nokia 9 PureView details, along with the Nokia 1 Plus user manual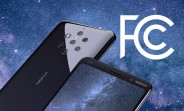 The Nokia 9 PureView and Nokia 1 Plus are having that kind of day. It's now the FCC's turn to leak stuff about them.
Nokia 9 PureView • 12V fast charging
The Nokia 9 design is nothing new, but the labeling info is still interesting. There will be both single and dual SIM versions of the phone and the Android One logo is present. The phone will support fast charging (5/9/12V, sounds like QuickCharge). Interestingly, the FCC docs show the phone running Android 8.1 Oreo.
As for the Nokia 1 Plus, it will have a microUSB port charging the 2,500mAh battery (the phone will be bundled…