mukeshbalani.com | "You heard it here first…if you haven't already heard it elsewhere"…
Latest OxygenOS updates bring deep integration with Google Duo to OnePlus 6/6T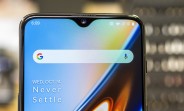 OnePlus started seeding the latest OxygenOS updates for its 2018 smartphones. It has started rolling out OxygenOS 9.0.4 for the OnePlus 6 and OxygenOS 9.0.12 for the OnePlus 6T.
Even though the two updates have a different number, they actually carry the same changelog, except that the OnePlus 6T gets optimizations for the display which the OnePlus 6 doesn't.
OxygenOS 9.0.4 and 9.0.12 updates bring in deeper integration with Google Duo to OnePlus 6 and 6T. What that means is you can now make video calls directly from the Phone and Messages app via Google Duo.
These updates also…