mukeshbalani.com | "You heard it here first…if you haven't already heard it elsewhere"…
AtmoTube Pro portable air quality monitor review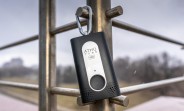 What is AtmoTube Pro?
Originally conceived as an Indiegogo-funded product, the Atmotube's series of personal air pollution monitors give you insight on key air parameters in your immediate vicinity – Volatile Organic Compounds (VOCs), as well as Particulate Matter pollutants in sizes of PM1, PM2.5, and PM10 micrometers.
The gadget also monitors ambient temperature, humidity, atmospheric pressure and can also serve as an altimeter.
The temperature, humidity and pressure readings are interesting as well
It connects to your smartphone via Bluetooth LE 5.0 and is equipped with…