mukeshbalani.com | "You heard it here first…if you haven't already heard it elsewhere"…
Amazon leaks Motorola One Zoom price and details: S675, not Android One phone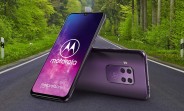 Amazon is at it again – first it leaked details about the Motorola One Action, now it did the same with the Motorola One Zoom. There's some good news and some bad news here.
The camera will feature dual OIS – the 48MP Quad Bayer sensor will be stabilized along with the telephoto camera.
Based on the label on the back, the telephoto lens will be 81mm, while the ultrawide angle lens will be 13mm (the fourth camera is likely a depth sensor). In case the focal lengths don't mean much to you, the telephoto camera will offer 3x optical zoom over the main one.
Motorola One…