mukeshbalani.com | "You heard it here first…if you haven't already heard it elsewhere"…
Xiaomi Mi 9 Pro comes with Snapdragon 855+, 45W charger in the box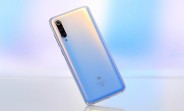 Xiaomi just unveiled Mi 9 Pro, building on the successful Mi 9 formula with a new chipset and much faster charging. The phone is now powered by the latest Snapdragon 855+ with up to 12GB of RAM.
You get the same 6.39″ OLED panel with built-in fingerprint scanner, the same triple camera setup with 48MP main module and an identical 4,000 mAh battery, but also plenty of upgrades.
Lei Jun, the Xiaomi CEO, was talking all the time about the Mi 9 Pro 5G, but the new phone will be available in 4G flavor as well.
Despite having the same battery capacity, the Mi 9 Pro comes with much…