mukeshbalani.com | "You heard it here first…if you haven't already heard it elsewhere"…
Powerbeats4 coming soon from Apple, icon found in latest iOS 13 update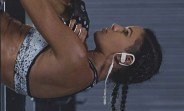 While Apple's own-branded headphones have stolen the spotlight, the company also owns the Beats by Dre brand. And we'll soon be reminded of this as a Powerbeats4 headset is nearing launch.
Powerbeats is a Bluetooth headset, but now TWS – there's a wire connecting the two buds. If you want true wireless, you have to look at the more premium Powerbeats Pro model.
Judging by the icon found in iOS 13.3.1, Powerbeats4 will maintain the connecting cord. The cable seems to have been repositioned, which may be a part of improvements to ergonomics.
All Powerbeats feature a plastic band that…